Maybe you've already heard, but
former first lady Betty Ford
passed away last Friday. She overcame some remarkable difficulties in her lifetime, including breast cancer and drug addiction. She founded a center to help people overcome their addictions. This of course is an excellent contribution to society, but I am naturally drawn to her courage in the face of breast cancer. She was a model for how high to hold your head during and after breast cancer treatment.
Another beautiful survivor I recently encountered is
Matuschka
. She became famous in 1993 when her self-portrait appeared on the cover of the New York Times magazine.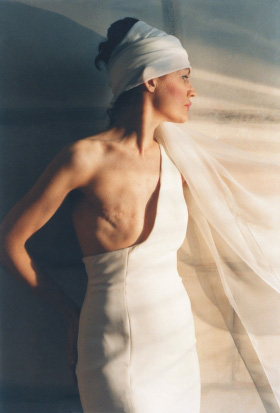 Isn't she amazing? Apparently this was a highly controversial photograph, and I am interested in reading more about the controversy because I don't see any place for controversy. I see nothing but beauty. Clearly I am biased. I'm guessing that the "damaged" part of her body is just more than most people want to see. I'd be interested in hearing what you think.
I was pleasantly surprised by her choice of wearing white. If it were me, and it might be someday because it would be fun to replicate this photoshoot, my instinct would have been to wear red. Red isn't even my color, but it would be dramatic and angry and representative of how I felt for a long time. In contrast, I love that the white dress represents purity despite the damage. The slim, angular dress adds an element of sexiness, and the flowing scarf invokes femininity. Yep, red would have been totally wrong for this image. I guess that's why I'm not an artist.
The whole article
published with the above image is an interesting presentation of the status of breast cancer awareness up to 1994. One of main things I took away from it is how very personal breast cancer is: all of the main supporters of awareness and research have been touched by breast cancer. Tom Harkin, still a senator of this great state, was the champion of a huge increase in funding for breast cancer research in the 90's. It seems that he was driven by the loss of two sisters to the disease. This blog and I are certainly an example of breast cancer awareness driven by personal experience. I suppose this is not surprising, because people care about what they know about. I think I just never thought about it before.
Cheers to you survivors and supporters out there! You are all beautiful!